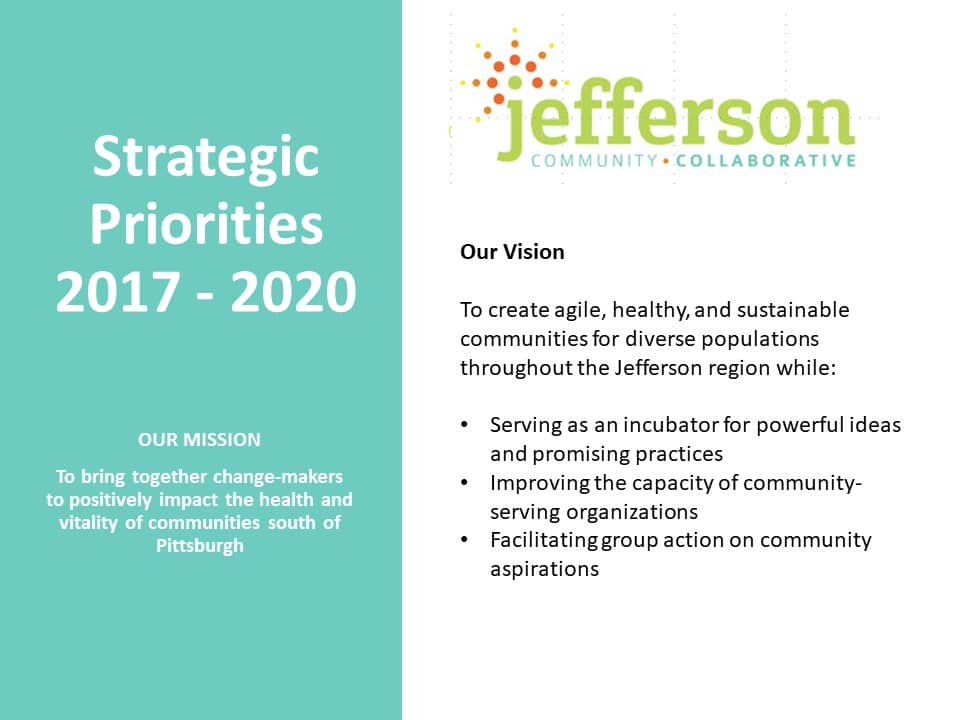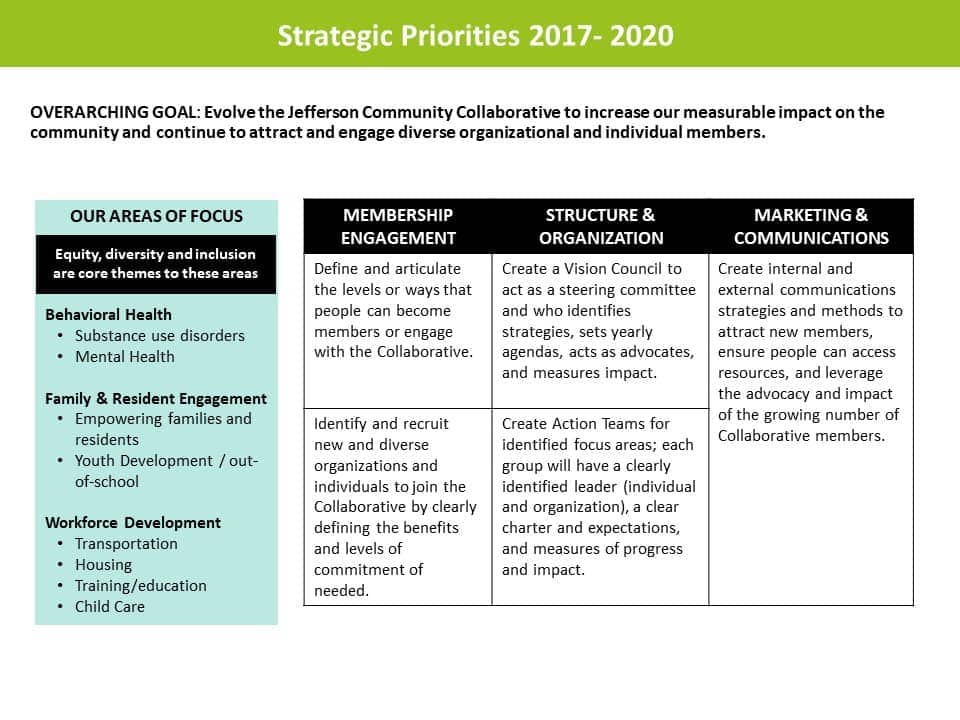 Resources from Collaborative Meeting, August 30, 2017
Next Meeting:
2:00 – 4:00 pm
Jefferson Room- 2nd Floor Bibro Building, Jefferson Hospital Campus
January 23, 2018
March 28, 2018
ACTION TEAMS
Eat and Educate Series
A lunch series focused on resource sharing and system navigation. Meetings focus on specific topics and bring in speakers from a variety of sectors throughout the year.
When: Schedule TBA
Where: Locations throughout the area
Contact: Tamera Stafford, Gwen's Girls; Jim Barry, Boys and Girls Club of Western PA
Upcoming meeting:
Planning Meeting- September 21, 2017, 12-1 PM
Jefferson Room, James Bibro Building, Jefferson Hospital Campus
Health Engagement
This group is focused on wellness initiatives throughout the Jefferson Region through pop-up health fairs, focused interventions around specific health concerns, and supporting the Live Well Allegheny initiative.
When: 2nd Tuesday of every month, 8:30-9:30AM
Where: Jefferson Regional Foundation Office
Contact: Jim Guffey, South Hills Interfaith Movement (SHIM); Janet O'Brien, Jefferson Hospital
Upcoming meetings:
October 10, 2017
November 14, 2017
December 12, 2017
January 9, 2018
February 13, 2018
March 13, 2018
Mental Health First Aid
Mental Health First Aid (MHFA) is a public education program in which participants work with certified trainers to increase their knowledge around common mental health challenges, become equipped to offer assistance, and reduce stigma. Trainings are free for interested nonprofits.
For additional information or to organize or register for MHFA training, contact Tina Zimmerman at Allegheny Health Choices Inc.: tzimmerman@ahci.org
Upcoming Mental Health First Aid training opportunities:
September 25, 2017 and September 28, 2017 from 9am-1pm
Madonna Del Casello Church
2021 S Braddock Avenue
Swissvale, PA 15218
Trainers: Joleen Chiaverini and Kurt Bopp
Please contact Joleen Chiaverini at 412-350-3348 to register
State of Our Communities
The outreach arm of the Collaborative, this group has focused on gathering and presenting key data on core issues in the Jefferson Region, as well as
reaching out to engage municipal leaders and other key stakeholders in the work of the Collaborative.
When: Preceding Full Collaborative meetings, 1-2PM
Where: Jefferson Room, Bibro Building
Contact: Sarah Papperman, Family Services of Western PA; Maria Cruz, Live Well Allegheny
Upcoming Meetings: 
October 25, 2017
January 23, 2018
March 28, 2018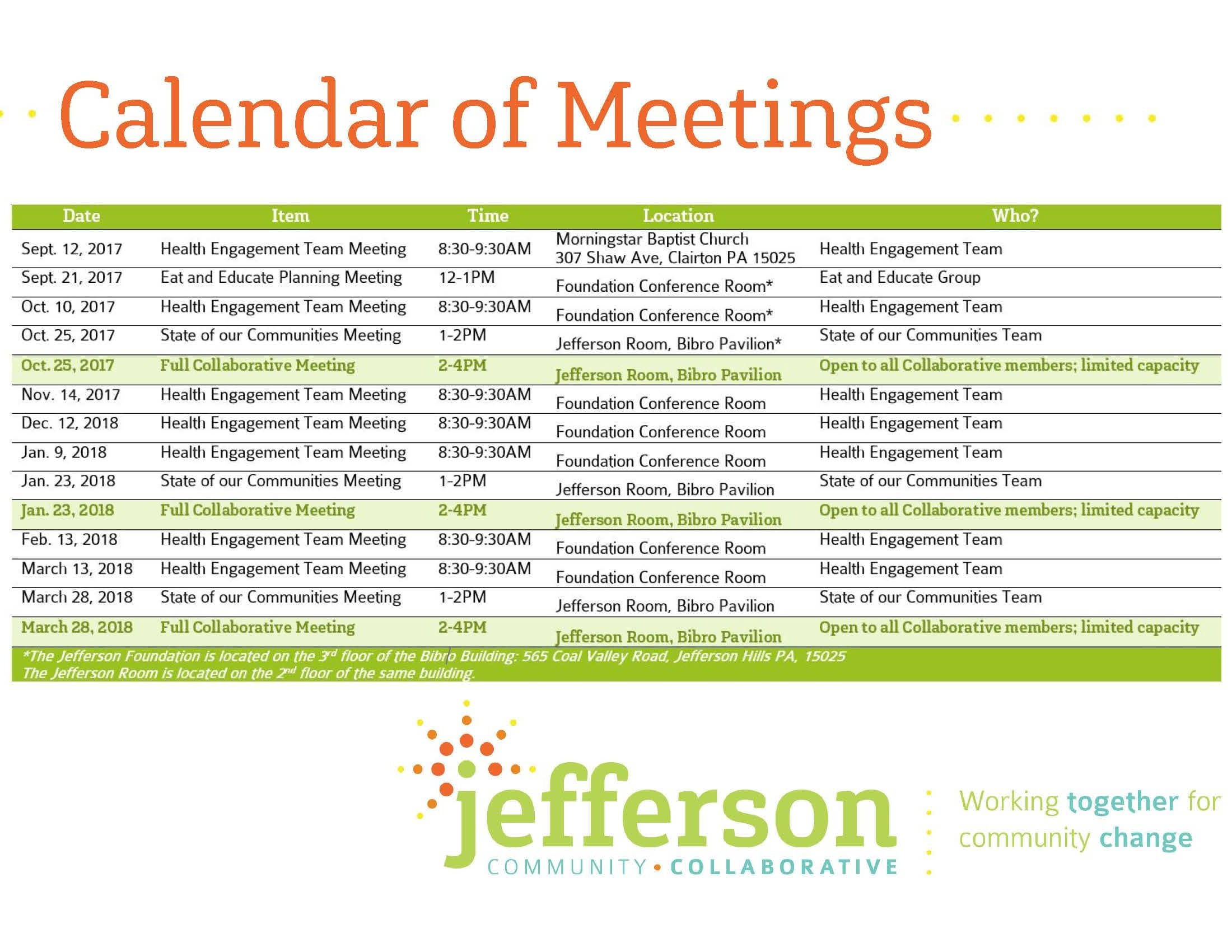 A resource guide that includes contact information for qualified service providers in the Jefferson Region, organized by service area and designed to assist service providers with referrals and networking.
A yearly gathering of leaders from around the region focusing on networking and capacity building. Stay tuned for the date for the 2018 Jefferson Forum.
Local data compiled by the University of Pittsburgh's Center for Social and Urban Research, organized by community and available for use by all members of the Collaborative.
FOR MORE INFORMATION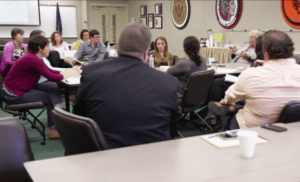 If you are interested in becoming an active Collaborative member, please contact the Foundation at foundation.info@jeffersonrf.org.