Working Together for a Changing Community
Next Meeting:
Tuesday, June 27, 2017
1:30 – 4:30 pm
Black Ashes Pavilion, South Park
To RSVP, please use this Eventbrite link and register
As a direct outcome of the inaugural Jefferson Forum in 2015, the Jefferson Regional Foundation provides and on-going opportunity for organizations from across the Jefferson area to convene and work collaboratively to improve our communities via the Jefferson Community Collaborative. The Jefferson Community Collaborative creates opportunities for community organizations & service providers who are dedicated to improving the communities of the Jefferson region to network with other providers, work together to solve community challenges and strengthen existing community assets, and to build their organizational & leadership capacity.
OUR CORE STRATEGY
To build & strengthen what we already have in our communities
Coordinate resources & service providers
Educate leadership & community about issues & existing resources
Find ways to apply best practices
Equip each community with essential resources
SHARED VALUES GUIDING THE WORK
Diversity & inclusion
Collaboration & consensus building
Commitment to sustaining the work
Transparency, openness & willingness to share
Leadership
Respect
PROJECTS AND INITIATIVES
Eat and Educate Series
Launching in 2016/2017, an on-going lunch-time series designed to focus and coordinate efforts of Collaborative members around specific topics.
Team Leaders: Tamera Stafford, Gwen's Girls; Jen LaRosa, South Hills Interfaith Movement (SHIM); Jim Barry, Boys and Girls Club of Western PA
Next Session: 
(click here to see full calendar)
Health Engagement
Bringing wellness resources to existing community locations and events.
Team Leaders: Jim Guffey, South Hills Interfaith Movement (SHIM); Fran Sheedy Bost, Turtle Creek Valley MH/MR, Inc.; Janet O'Brien, Jefferson Hospital
Upcoming Meetings: 
Families First Fun Network
Enhancing and promoting existing community events and happenings to be more family friendly and accessible.
Team Leaders: Megs Yunn, Beverly's Birthdays; Brenda Lockley, Melting Pot Ministries
The Jefferson Community Corps
Increasing the number of community stewards throughout the region; opportunities for more people to become active in transforming their communities.
Team Leaders: Cindy Moore, Gethsemane Church of God; Kelli Maxwell, CCAC South Campus; Upendra Dahal, Bhutanese Community Association of Pittsburgh (BCAP)
State of Our Communities
Gathering and presenting key data and information regarding core issues (Poverty, Mental Health, etc) to Collaborative members and community leaders throughout the region.
Team Leaders: Sarah Papperman, Family Services of Western PA; Maria Cruz, Live Well Allegheny; Paula Kelly, Whitehall Library
Upcoming Meetings: 
June 27, 2017 1:00-2:00, prior to Collaborative Meeting
A resource guide that includes contact information for qualified service providers in the Jefferson Region, organized by service area and designed to assist service providers with referrals and networking.
A yearly gathering of leaders from around the region focusing on networking and capacity building. This year's event is on Wednesday, May 10th. Registration is now closed.
Mental Health First Aid
Increasing community awareness regarding mental health issues and stigma through trainings that teach basic symptoms, simple interventions, and local referrals. For more information, contact Tina Zimmerman at Allegheny Health Choices, Inc.
Upcoming Mental Health First Aid training opportunities:
Local data compiled by the University of Pittsburgh's Center for Social and Urban Research, organized by community and available for use by all members of the Collaborative.
Data Training and Coaching
Elizabeth Monk, Research Specialist with the University of Pittsburgh's Center for Social & Urban Research (UCSUR) is hosting office hours for Collaborative members interested in data coaching and training in the Jefferson Regional Foundation offices on the dates & times below. Please email monk.e@pitt.edu to reserve your time.  
FOR MORE INFORMATION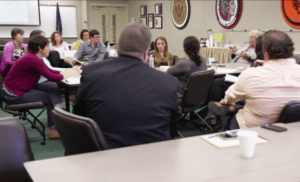 If you are interested in becoming an active Collaborative member, please contact the Foundation at foundation.info@jeffersonrf.org.