Jefferson Counts Census Champion Resources
New!  "I Count" Digital Campaign!
Participate in Jefferson Count's "I Count" social media campaign to encourage community members to complete their 2020 Census form! To participate, simply complete your 2020 Census, take a picture with an "I Count" sign, and post it on your preferred digital platform with a Census message.
Click here for  the "I Count" signs  &  Click here for the "I Count" instructions 
The Jefferson Counts Census Toolkit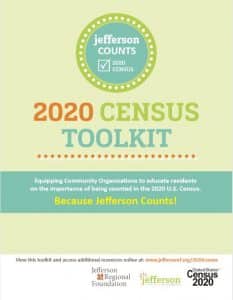 This Jefferson Counts Census toolkit equips Census Champion organizations with the tools and resources they need to reach deeply into our local communities to ensure that everyone is counted. Census Champions are encouraged to tailor the provided resources and messaging included in this toolkit to best reach their targeted audiences. Please feel free to share this toolkit with anyone who might be educating local residents on the 2020 Census!
Resources for Download
Please click the links below to access additional Jefferson Counts Census resources, or click the button below to access them all in a dropbox for your convenience!
Census Presentation Slide Deck
Jefferson Counts Posters and Insert 
Email Signature
Help us spread the word about the Census in every email you send. Add the following to your signature line in your emails.

Click here to copy and paste the email signature. 
Template Letter/ Email for Community Support 
Census Messages
Share Localized Census Messages! Census Champions are encouraged to share Census messaging with your community members to promote Census participation. We encourage you to use these sample messages to promote the Census on Social Media. Please use the Jefferson Community Collaborative Census hashtag #JeffersonCounts to accompany your social media posts. Click here to view a PDF of the provided Census messages.
Jefferson Counts Branding & Logos 
Guidelines for Use of Jefferson Counts Materials
Add your organization's logo or event info to any Jefferson Counts materials or posters.

Please do not alter or remove colors or existing logos.

Feel free to adjust any messaging to fit the needs of your audience.
Interested in connecting with Jefferson Counts? Need assistance finding Census Resources? Have a Census question? Please contact Colleen Cadman at colleen.cadman@jeffersonrf.org or call 412-267-6774.