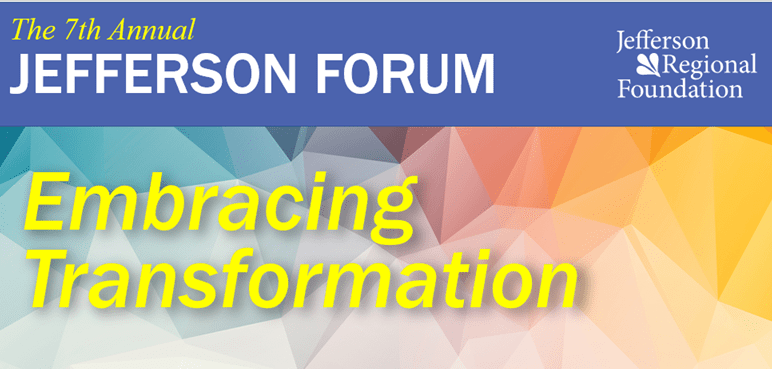 The Jefferson Regional Foundation hosted our 7th Annual Jefferson Forum, Embracing Transformation: a month-long series of virtual opportunities in May 2021 to connect, learn, and reflect on the many ways the pandemic transformed our South Hill and Mon Valley region and the way we do our work. More than 370 representatives including community leaders, funders, legislators, superintendents, and other changemakers joined together to learn, reflect, and connect with other local leaders; gather ideas for embracing transformation; and gain inspiration for furthering important change in our shared communities.
Our deepest gratitude to the long list of amazing speakers, panelists, and workshop leaders who made our Forum possible! Be sure to view all of our Forum speakers and their bios here.
The Forum lineup included the sessions below. Click next to each session for related resources and the recording (available for most sessions!)
KICK-OFF  May 6th, 9am – 12pm| Resources & Recording Here
Welcoming Remarks by Austin Davis – PA State Rep, District 35
Local Leaders of Transformation Panel Discussion: Inspiration from local leaders reflecting on what transformation means to them and how it drives their work.

Austin Davis – PA State Rep, District 35
Angela Garcia – Executive Director, Global Links
Jim Guffey – Executive Director, South Hills Interfaith Movement
Dr. T. Charles Howell – Director of Workforce Development, Mon Valley Initiative
Giulia Lozza Petrucci – Executive Director, Dragon's Den

Nonprofits are Improv Geniuses – with Arcade Comedy: the team from Arcade Comedy explores a new perspective on nonprofit work through an improv comedy show, followed by a talk-back session.
Jefferson Café Discussions: Jefferson movers and shakers connected through virtual small group discussions to explore lessons learned over the past year and how we might continue to embrace transformation in the future.
May 20th, 10am – 12pm: Transforming Your Mindset  | Resources  Here (*Recording Not Available)
Asset Framing for Equity with Nationally Acclaimed Thought Leader Trabian Shorters
Asset-framing has been recognized as a major innovation in fields of social impact. Based on insights from global authorities in cognition, decision-making, narrative and social impact, nationally acclaimed thought leader Trabian Shorters offers forward-thinking leaders a reliable way to increase engagement, support and impact for their enterprises across races, genders and economic classes.
TRANSFORMATIONAL WORKSHOPS | Held Throughout May 2021
Our five workshop offerings included:
May 11th: 1-3pm | Transforming Work – People Practices in the New Normal | Resources & Recording Here
With tHrive – People Practices for Nonprofits
Nonprofit experts in "people practice" explored policy and practice issues, reviewing organizational policies such as flextime, leave of absences, vaccinations, new federally mandated employment programs, along with practices to guide and transform your organization and people through this new normal and beyond.
May 14th: 9am – 12pm | Transforming Influence & Policy – Digital Engagement & Government Funding | Resources & Recording Here
This two-part session featured the following:
Digital Advocacy Training with  John Denny and the team from Denny Civic Solutions: participants learned to use digital advocacy tools and social media to ensure their message is heard and to move legislators and key decision makers.
Transforming Influence & Funding, Moderated by Jay Costa (PA State Senator, District 43) and featuring Kathi Elliott (CEO, Gwen's Girls); Rochelle Jackson (Executive Director, Black Women's Policy Center); and Laura Chu Wiens (Executive Director, Pittsburghers for Public Transit) participants gathered insights about influencing policy with a panel of powerful advocates who offered strategies for working with legislators and other key decision makers and leveraging funding sources.
May 18th: 9-11am | Transforming Community Health – Access & Technology | Resources & Recording Here
Featuring Rev. Paul Abernathy (CEO, Neighborhood Resilience Project); Dr. Elizabeth Cuevas (Division Director, AHN Center for Inclusion Health); Dr. Jenn Elliott (Associate Professor, Duquesne School of Pharmacy); and Dr. Jerome Gloster (CEO, Primary Care Health Services, Inc.)
The pandemic has drastically changed how health and behavioral health providers interact with communities, presenting both challenges and opportunities when it comes to providing equitable health access, addressing trauma and social variables, and leveraging telehealth and new technologies. Join this workshop to explore the broad and innovative ways that health providers are engaging with communities for tremendous impact.
May 24th 1-3pm | Transforming Data – Data as a Tool for Change | Resources & Recording Here
Moderated by Carrie Tancraitor (Associate Director, Bayer Center for Nonprofit Management) and featuring Bobbi Watt-Geer (CEO, United Way of Southwestern PA); Rich Overmoyer (CEO & President, Fourth Economy), and Bhavini Patel (CEO and Co-Founder of Beam Data)
Data is a powerful tool for transformation. Key local leaders and analysts will offer insights and examples of how they are collecting and utilizing data in innovative ways to drive impact and change in the nonprofit sector and tips to build your capacity to utilize data.
May 26th 1-3pm OR June 4th 10am -12pm | Transforming Equity – Racial Wealth Gap Learning Simulation | Resources  Here (*Recording Not Available)
With LaTrenda Sherill at Common Cause Consulting
This interactive activity assisted participants in understanding the connections between racial inequity, policy, and wealth in new ways. Recommended for all, this simulation serves as a good early step for people who are just learning about racism as well as an informative support tool for all participants in understanding the quantifiable economic impact of historical policies that have widened today's racial, income, and wealth divides in the United States.