Trisha Gadson, Ph.D. | Chief Executive Officer
Dr. Trisha Gadson began her role as CEO in September 2022. Dr. Gadson is a driven and mission-focused executive that has built a fulfilling and successful career in non-profit management, development, education, DEI, and community service. With a passion for working to accomplish racial equity, she is experienced in raising awareness, elevating thinking and conversations relating to equity and justice. She is a seasoned strategic thinker with persuasive and passionate communication skills.  She has a more than 25-year track record of nonprofit management which was evidenced by her successful leadership for 12 years of a respected human service organization that experienced significant growth and increased impact within the region.
Dr. Gadson holds a Ph.D. in community engagement from Point Park University, a master of science in professional leadership from Carlow University, and a bachelor of arts in psychology from Syracuse University. She also holds a national certification as a Bullying Prevention Program Trainer & Consultant from the Institute on Family & Neighborhood Life at Clemson University as well as a Leadership Credential for Strength Based Family Workers from Temple University. In addition, Dr. Gadson is a recognized diversity and inclusion facilitator. She holds a Fostering Inclusion and Diversity Certificate from Yale School of Management. Dr. Gadson received the Women of Excellence Award from the New Pittsburgh Courier; the Women of Influence Award from the Pittsburgh Business Times; and an Equity & Leadership Award from the African American Strategic Partnership. She was also one of the finalists for the prestigious 2022 Pittsburgh ATHENA Award. Dr. Gadson has authored human service articles, published a novel and served as an adjunct professor at local universities.
trisha.gadson@jeffersonrf.org  | 412-990-7112
Kelleigh Boland | Director of Grantmaking and Strategy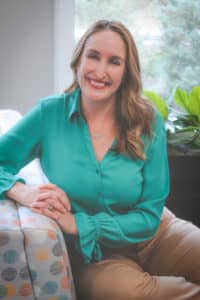 Kelleigh Boland started as the first Program Officer at the Jefferson Regional Foundation in November 2014 and is currently the Foundation's Director of Grantmaking and Strategy.  At the Foundation, she focuses on grantmaking, grants management, data and research analysis, and assists with outlining the strategic direction of the Foundation. Ms. Boland regularly interacts with diverse audiences and supported the creation of the Jefferson Community Collaborative, a 99-member group of nonprofit organizations dedicated to Jefferson communities focused on capacity building and collective impact.  Ms. Boland has brought a data-driven approach to the Foundation and helped to incorporate a focus on her professional and personal interest in economic opportunity and workforce development. Before her role at the Foundation, she served as the Director of Workforce Programs at the Three Rivers Workforce Investment Board (now Partner4Work) managing several million dollars in grant funds and interacting with government, private industry, and large numbers of workforce and human services agencies. Kelleigh also previously  worked as a Research Associate at the Coro Center for Civic Leadership and began her career at the Human Services Center Corporation in Turtle Creek.
Kelleigh has both a Master of Public Administration (major in Policy and Research Analysis) and a Master of Social Work (major in Community Organization/Social Administration) from the University of Pittsburgh. She graduated magna cum laude from Indiana University of Pennsylvania with a Bachelor of Arts in Criminology. She is a graduate of the Leadership Development Initiative (LDI) program of Leadership Pittsburgh, serves on the Steering Committee for the Mon Valley Providers Council (MVPC), and has served on boards and several countywide advisory committees. She is a native of Wilmerding and continues to be humbled and inspired by the strengths and assets of the Mon Valley communities.
kelleigh.boland@jeffersonrf.org  | 412-990-7117
Daniel Vereb | Community Engagement Manager
Daniel (Danny) Vereb began his role as Community Engagement Manager in October 2021. With fourteen years of experience in the nonprofit sector, Danny's roles have always centered around creatively and effectively engaging the public, alumni, students or partner organizations. During his seven years at Carnegie Mellon University's Tepper School of Business, where he served as Assistant Director of the MSCF (Master of Science in Computational Finance) Program, Danny demonstrated his ability to create and lead programs and events that attracted larger, stronger and more diverse participation. His roots in the creative arts provided deep experience and include the Carnegie Museums of Pittsburgh as Assistant Director of Donor Services, Pittsburgh Civic Light Opera (Special Events Manager), Pittsburgh Ballet Theatre (Marketing Manager) and Heinz History Center (Visitor Services). Danny's expertise extends to communications and social media, program management and evaluation, and community partnerships. A proud graduate of the Baldwin-Whitehall Schools, he received a BA in English and Theatre from Allegheny College. He and his wife, who grew up in Elizabeth, have three young sons and continue to reside in the South Hills area. He has served on several Boards (Edgewood Symphony Orchestra, Dormont Recreation Board, Neighbors in the Strip) and has also been active with local theatres and South Hills Chorale.
daniel.vereb@jeffersonrf.org | 412-990-7115
Stephen Ankney | Grants, Evaluation and Data Manager
Stephen Ankney began his role as the Grants, Evaluation and Data Manager for the Foundation in November 2021. In this role, Stephen will drive the Foundation's research agenda focused on the health and wellbeing of Jefferson communities and assist with grants management.
Before joining the Foundation, Stephen served as the Director of Career and Technical Education for the Community College of Allegheny County (CCAC).  As part of the CCAC-wide assessment team, Stephen helped develop an integrated assessment system, which paired classroom evaluation data with student demographic information to provide a snapshot of student achievement across all CCAC campuses. Stephen also developed and authored four-year comprehensive program reviews for many of CCAC's skilled trade and union apprenticeship programs. The assessments combined quantitative, qualitative, and economic data to reflect the success of the program and outline a path for continued improvement and expansion. Stephen started his career at Juniata College where he served as Interim Director of the Office of Academic Support and as an academic counselor for underrepresented, first generation and international students.
Stephen graduated cum laude from Ohio Northern University and holds a BA in Political Science. He is a native Pittsburgher with a passion for volleyball, a sport which he has also coached.
stephen.ankney@jeffersonrf.org | 412-990-7116
Tyler Wheeler | Office Manager
Tyler Wheeler began his role as Office Manager in July 2021. Tyler started his career in the nonprofit sector as a Pitt graduate student intern with Bloomfield Garfield Corporation (BGC).  At the BGC, Tyler assumed roles of increasing responsibility as a Youth Projects Assistant, and a Summer Learn & Earn Coordinator, including onsite work at the City of Pittsburgh. Prior to joining the Jefferson Regional Foundation, Tyler spent three years as the Office Manager for Neighborhood Learning Alliance in Pittsburgh where his responsibilities included administrative, fiscal, and support of programs and proposals and included exposure to a broad group of other nonprofit and government partners.
Tyler grew up in Punxsutawney PA (like other natives, he has heard all the groundhog jokes) and now lives in Pittsburgh. He completed his bachelor's degree in Sociology and English Literature magna cum laude at Clarion University and in 2018 completed a master's degree in Social Work at the University of Pittsburgh with a concentration in community organizing/social administration. Tyler loves the challenges of organizing administrative activities, managing large events, and is attracted to mission-focused work. Tyler is also an active community volunteer, working with arts groups and urban farms in the Pittsburgh area.
tyler.wheeler@jeffersonrf.org  | 412-990-7118