Jefferson Community Directory:  A Resource Guide for Connections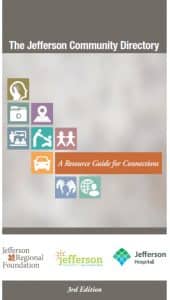 When individuals or families are in need, they often turn to trusted assets in the community—whether that is a case manager, a pastor, physician's office, legislative office, or local library or many others. We are very pleased to present this digital version of the Jefferson Community Directory as a resource guide for the South Hills and lower Mon Valley community. Our intention is to provide a tool which will increase the quality of life for patients, residents and families by facilitating effective connections and referrals to services and programs located in the Jefferson area. We recognize that health and quality of life are intertwined, and so the listings cover a wide variety of human needs, including child/youth programs, behavioral health, civic-neighborhood resources, healthcare, human services, legal resources, senior services and transportation.
This Directory was created through an important partnership between the Jefferson Community Collaborative, Jefferson Regional Foundation and Jefferson Hospital. Special thanks to the member organizations of the Jefferson Community Collaborative, Jefferson Hospital President and CEO Louise Urban, and the Board of Directors of the Jefferson Regional Foundation. We welcome your feedback and suggestions at foundation.info@jeffersonrf.org.
If you work for a community or public organization, spiral-bound printed copies can be made available to you and your staff. Please complete this request form and send to daniel.vereb@jeffersonrf.org.