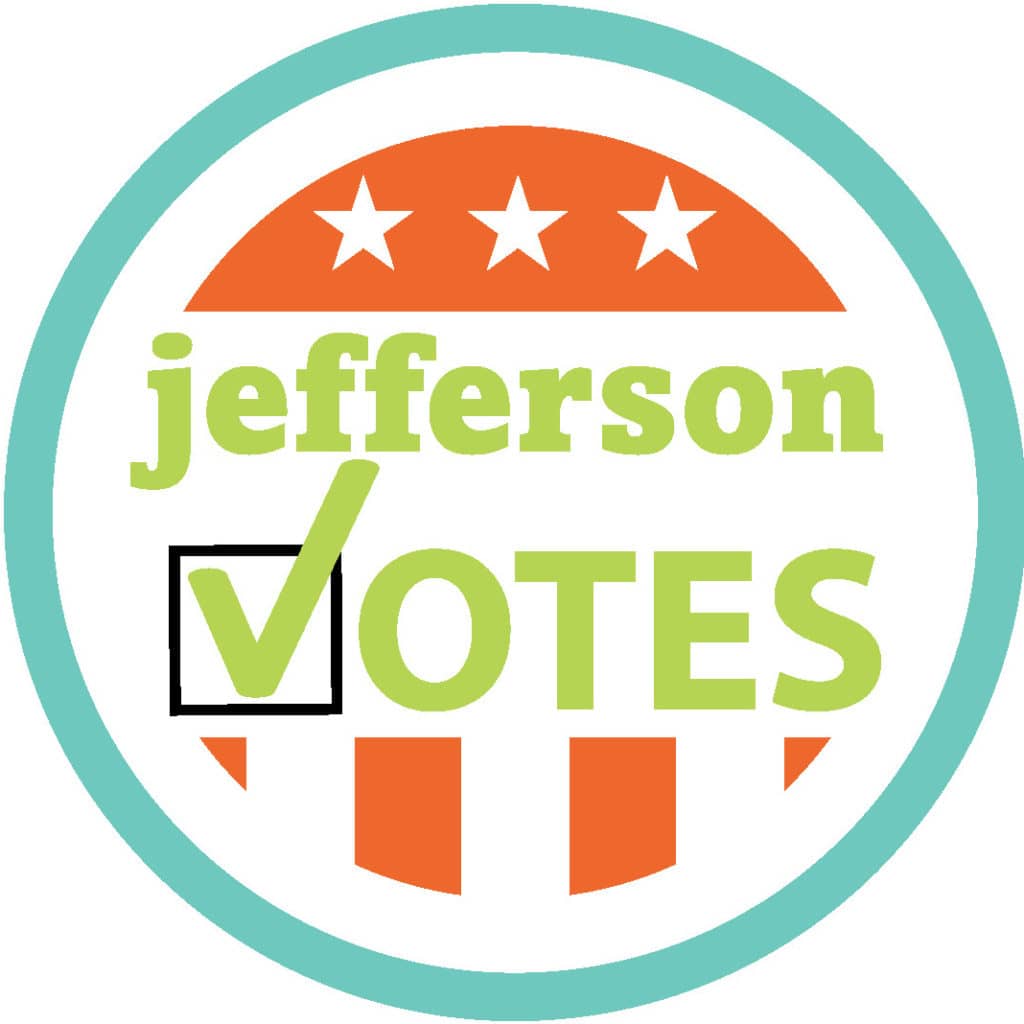 Jefferson Votes Initiative
Jefferson Votes is a nonpartisan initiative of the Jefferson Regional Foundation and the 100+ member strong, Jefferson Community Collaborative. This voter engagement initiative is designed and led by the Collaborative's dynamic Civic and Policy Engagement Action Team and Voter Engagement Task Force.
The objective of the Jefferson Votes initiative is to inspire Jefferson area residents to participate in the election process, leveraging local organizations as trusted community resources to:
Strengthen Collaborative organizations in the Jefferson community to increase voter registration and participation.
The Jefferson community is confident, comfortable, and informed about the process of voting.
Regional interest and enthusiasm in civic engagement rises and continues.
Jefferson Votes offers a website of resources and a robust toolkit of resources for organizations to participate in voter engagement with their constituents and community members. This effort builds on the enthusiasm for civic engagement during the Jefferson Counts initiative for the 2020 Census which engaged over 60 local groups.
Become a Voter Engagement Champion
Join fellow Collaborative organizations to get informed and consider one or many simple actions related to voter engagement as a Voter Engagement Champion. With 23 organizations and counting, organizations will not only have support from member organizations but also the Jefferson Regional Foundation in your voter engagement efforts.
Jefferson Votes Lunch and Learn Series
The Jefferson Votes Lunch and Learn Series is designed as a companion piece to the website of resources and robust toolkit of resources for voter engagement. Utilizing professionals in nonpartisan voter engagement, these workshops are designed to help organizations understand best practices and what engagement opportunities work around voter engagement. Our workshop series is listed below:
Promoting Nonprofit Voter Engagement, Thursday, August 4 (12:00-1:00pm)
How to Market Voting to Your Constituents, Thursday, August 25 (12:00-1:00pm)
Voter Engagement and Accessibility – Jefferson Collaborative Meeting: Thursday, September 22 (10:00-12:00pm)
Disinformation in Voting, Thursday, October 20 (12:00-1:00pm)
Mini-Grant Opportunities Up to $1,000
To assist organizations with costs associated with voter engagement education and outreach, Jefferson Votes is offering mini-grants. Mini-grants are available up to $1,000 depending on the level of activities your organization has planned for the initiative and the resources needed. Learn more about how to qualify and apply for a mini-grant here.
For more information regarding Jefferson Votes, please contact Danny Vereb, Community Engagement Manager at daniel.vereb@jeffersonrf.org or visit the Jefferson Votes page.