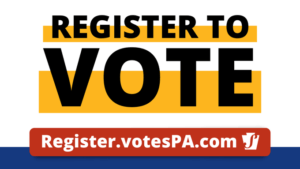 Voting Resources for Organizations 
Why should my organization be involved in voter education?
Local nonprofit organizations can play a crucial role in engaging community members to enga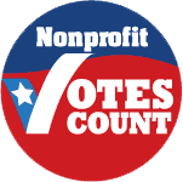 ge in the important civic duty of voting – and voter registration is required for many organizations who receive government funding!
Nonprofits represent democracy's highest ideals of public service, active participation, and commitment to a better society. With natural engagemen
t assets and unparalleled reach, nonprofits are particularly well suited to encourage voter participation. And there's a proven impact on voter participation when nonprofits are involved. Not only do nonprofits reach populations that are less likely to vote, but trusted community institutions are effective in increasing turnout among these groups—reducing disparities in who votes based on age, income, and ethnicity. Learn more about why your organization should help educate your community members on the importance of voting at www.nonprofitvote.org.
What can my organization do to educate community members?
Here are several ways to keep your communi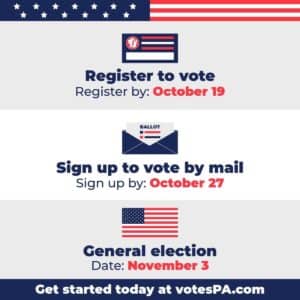 ty members informed/
engaged with voting this Fall:
Share voter education resources in your community: view shareable resources, graphics, and messages your can use in our Voting Resources Section below. You can also share this message from our Jefferson Community Collaborative twitter account directly on your social media.
Add voting info/deadlines to your email signature! Copy and paste this message into your email signature: Your voice matters! Be sure you're ready to vote either in-person or by mail-in ballot in November General Election. Register to vote by Oct 19th and apply for a mail-in or absentee ballot by Oct 27th at www.votespa.com. #JeffersonCounts #VoteReady
Educate Your Community Members on the Importance of "Dressing" Mail In Ballots Properly: this article from the Incline explains how, given the number of "naked" mail-in ballots seen in June's primary, a similar rate in this election would result in up to 100,000 Pennsylvania ballots going uncounted. Share this video on how to fill out your ballot correctly.
Offer paid time for your employees to vote: this article from the Chronicle of Philanthropy explains why ensuring that your employees can vote is critical.
Host a voter registration drive: organizations can host a drive through to assist with voter registration or mail-in ballot applications. Your organization can also make phone calls or use a text bank to reach out to your community members to ensure they have the proper links and info.
Voting Resources 
Have a question about voting or need resources to share with your community? The following organizations can provide answers to all your questions and offer toolkits and messaging you can share with your community members:
Helpful Information
Shareable Content & Graphics
Have a question or need help locating a resource? Please contact Daniel Vereb at daniel.vereb@jeffersonrf.org.