We are a network of over 100 community-serving organizations who are committed to bringing together change-makers to positively impact the health & vitality of communities south of Pittsburgh.
Our Vision:




To create agile, healthy, and sustainable communities for diverse populations throughout the Jefferson region while:




      o Serving as an incubator for powerful ideas and promising practices




      o Improving the capacity of community-serving organizations




      o Facilitating group action on community aspirations
Our Current Priorities




      o Behavorial Health




      o Family & Resident Engagement




      o Workforce Development
We are currently accepting new Member Organizations. Please download this

Membership Form

to apply, or contact Colleen Cadman at colleen.cadman@jeffersonrf.org with any questions. 
MEMBER MEETINGS are convened throughout the year (August, October, January, March, and a Picnic in June) and focus on advancing priority issues, capacity building opportunities, resource and data sharing, and networking opportunities.
Next Meeting:
March 28, 2018 (click to register)
2:00 – 4:00 pm
Jefferson Room- 2nd Floor Bibro Building, Jefferson Hospital Campus
Future Meetings:
June 23, 2018
Resources from Previous Meetings
ACTION TEAMS
Community Engagement
The outreach arm of the Collaborative, this group is focused on gathering and presenting key data regarding core issues in the region and reaching out to engage municipal leaders in the work of the Collaborative
When: Preceding Full Collaborative meetings, 1-2PM
Where: Jefferson Room, Bibro Building
Contact: Sarah Papperman, Family Services of Western PA; Maria Cruz, Live Well Allegheny
Upcoming Meetings: 
March 28, 2018
Eat and Educate Series
A lunch series focused on resource sharing and system navigation, targeted towards frontline workers. Meetings focus on specific topics and bring in speakers from a variety of sectors throughout the year.
Where: Locations throughout the area
Contact: Tamera Stafford, Gwen's Girls; Jim Barry, Boys and Girls Club of Western PA
Upcoming meeting:
Thursday, March 15, 2018
12:00 to 1:30 pm
Panera- Southland Shopping Center
623 Clairton Blvd (Route 51),  Pleasant Hills, PA 15236
Topic: Accessing Childcare
Health Engagement
This group coordinates wellness initiatives throughout the Jefferson Region and currently focused on the issue of tobacco-cessation.
When: 2nd Tuesday of every month, 8:30-9:30AM
Where: Jefferson Regional Foundation Office
Contact: Jim Guffey, South Hills Interfaith Movement (SHIM); Janet O'Brien, Jefferson Hospital
Upcoming meetings:
March 13, 2018
Mental Health First Aid
Mental Health First Aid (MHFA) is a public education program in which participants work with certified trainers to increase their knowledge around common mental health challenges, become equipped to offer assistance, and reduce stigma. Trainings are free for interested nonprofits.
For additional information or to organize or register for MHFA training, contact Glynis Arnold at Allegheny Health Choices Inc.
Upcoming Mental Health First Aid training opportunities:
Date : Saturday, April 7, 2018
Time:  8:30 am-5:00 pm
Location: Jefferson Hills Library-925 Old Clairton Rd, Clairton, PA 15025
To register or get info:  Contact Shauna at: shauna.frantz@ahn.org or call 412-650-1133.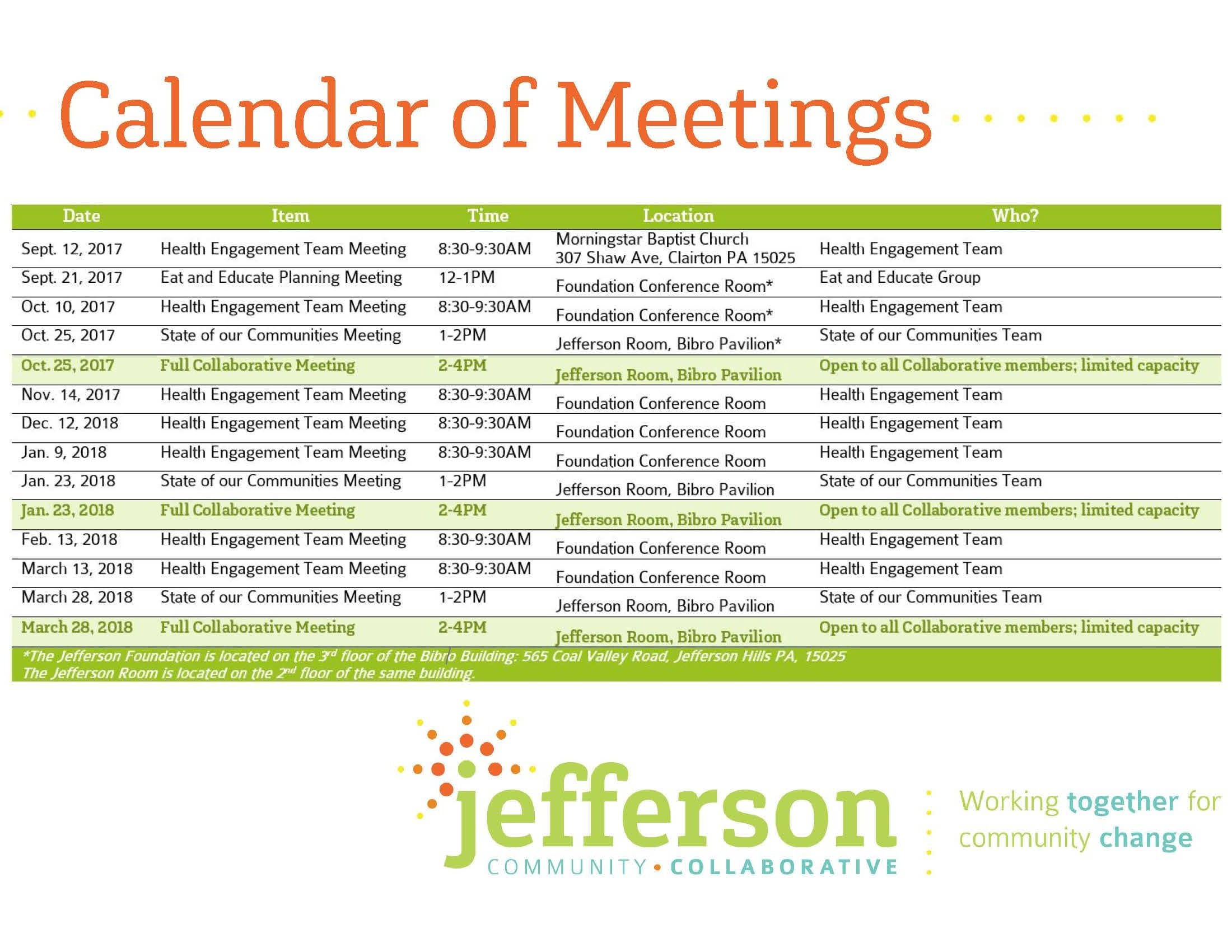 (click on image to enlarge)
Additional Resources
A resource guide that includes contact information for qualified service providers in the Jefferson Region, organized by service area and designed to assist service providers with referrals and networking.
A yearly gathering of leaders from around the region focusing on networking and capacity building. The 2018 Jefferson Forum will be on Wednesday, May 9, 2018. Stay tuned in late March for registration information.
Local data compiled by the University of Pittsburgh's Center for Social and Urban Research, organized by community and available for use by all members of the Collaborative.
FOR MORE INFORMATION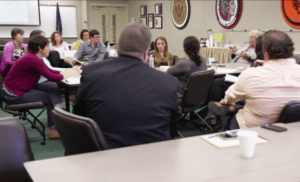 If you are interested in your organization becoming an active Collaborative member, please contact