We are a network of 95+ community-serving organizations who are committed to bringing together change-makers to positively impact the health & vitality of communities south of Pittsburgh.
Our Vision:




To create agile, healthy, and sustainable communities for diverse populations throughout the Jefferson region while:




      o Serving as an incubator for powerful ideas and promising practices




      o Improving the capacity of community-serving organizations




      o Facilitating group action on community aspirations
Our Current Priorities




      o Behavioral Health




      o Family & Resident Engagement




      o Workforce Development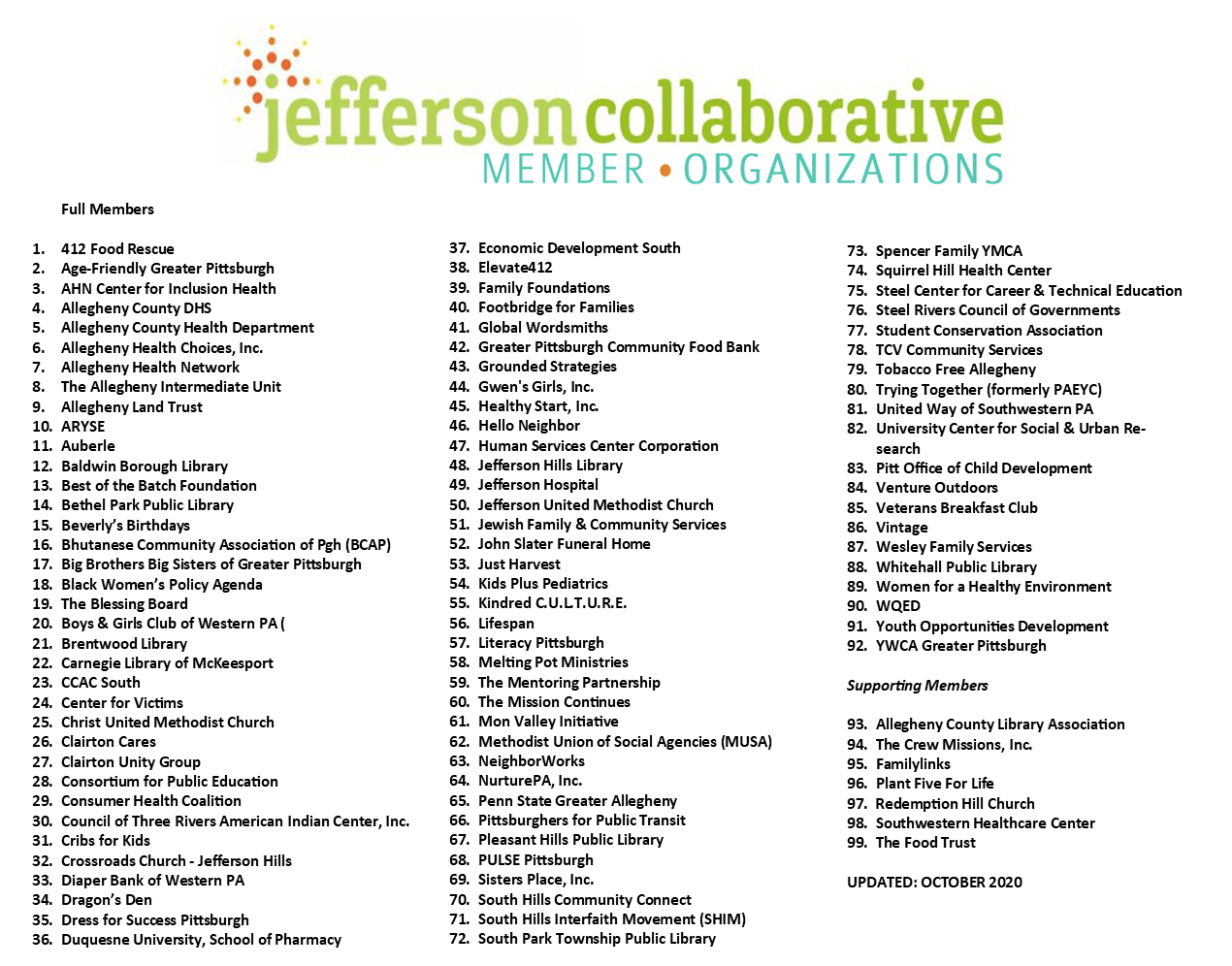 Interested in becoming a Jefferson Community Collaborative Member? Please download this Membership Application Form to apply, or contact the Foundation's Community Engagement Manager Colleen Cadman at colleen.cadman@jeffersonrf.org with any questions. 
MEMBER MEETINGS are convened throughout the year (September, October, January, March, and  June) and focus on advancing priority issues, capacity building opportunities, resource and data sharing, and networking opportunities.
Collaborative Meeting Schedule 2020-2021
Our Jefferson Community Collaborative holds our regular membership meetings five times per year – these meetings regularly include 85-100 representatives from local organizations and will occur virtually until we are able to gather safely in person again. Membership meetings offer our local agencies and providers an opportunity to connect, learn, and engage in collective efforts to improve the healthy and vitality of communities south of Pittsburgh and the chance to network with other local changemakers.
Below is a schedule of this year's meetings:
September 3, 2020 – Meeting Theme: Pursuing Equity & Change Through Collective Action: View the meeting recording here!
October 29, 2020 – Meeting Theme: Exploring Workforce Trends and Equity in Our Nonprofit Sector : View the meeting recording –

part 1 is here

and part 2 is here!
January 28, 2021: Save the date – registration link to come soon!
Late March, 2021: Details TBA
June, 2021: Details TBA
2020-2021 Capacity Building Opportunities
A strong and skilled nonprofit workforce is crucial to the health of our Jefferson communities. Furthering the Jefferson Regional Foundation's and Jefferson Community Collaborative's workforce development priority, we're partnering with the Bayer Center for Nonprofit Management to provide exciting capacity building and skill development opportunities for organizations and their staff members who serve our South Hills and Mon Valley communities. These opportunities are offered for free through a grant from the Jefferson Regional Foundation. View our current opportunities and offerings here!
Resources from Previous Meetings
Action Teams
Eat and Educate Series
A lunch series focused on resource sharing and system navigation, targeted towards frontline workers. Meetings focus on specific topics and bring in speakers from a variety of sectors throughout the year. Recent topics have included Highlighting Resilient Organizations During Covid-19, Creative Planning for Out-of-School Time Providers, and Housing Supports for Community Members.
Next Meeting: Supporting Healthy Communities This Holiday Season
Details: November 19th from 12:00 – 1:30 pm
Team Leaders: Tamera Stafford, Gwen's Girls
Jefferson Area Census Leadership Team
This group of leaders from across the Jefferson Area is devoted to developing a local outreach plan to promote Census participation in South Hills & lower Mon Valley communities.
Contact: Colleen Cadman, Jefferson Regional Foundation
Workforce Development Team
This team coordinates localized workforce initiatives and strategy with key workforce organizations in the Jefferson Area
Team Leader: Sarah Welch, Jewish Family & Community Services Career Development Center
Mental Health First Aid
MHFA is a free public education program – offered through a grant partnership with Allegheny Health Choices, Inc. – in which participants attend a course with certified trainers to increase knowledge around mental health challenges and learn the tools to respond to a crisis. MHFA is close to training nearly 1,000 residents/workers in the Jefferson Area! MHFA Trainings are now virtual: attending a training requires 2 hours of pre-work online followed by 4-5 hours of live training on Zoom and becoming a certified MHFA Trainer requires 8 hours of pre-work followed by 3 of live training on Zoom.
If your organization is interested in attending a training, hosting a training at your organization, or joining the Jefferson Area's core group of certified trainers, please contact Cristina Ruggiero (cruggiero@ahci.org) or Emily Insalaco (einsalaco@ahci.org.)
New Action Teams in 2021 – Under Development!
We're excited to be launching two new Action Teams to further the Collaborative's work on key priority areas:
Diversity Equity and Racial Justice team: will further engage with the core value of diversity and inclusion which is included in our Collaborative vision statement. Early ideas from this team include launching learning circles and other educational opportunities, identifying equity best practices in workforce and hiring, and ingraining inclusion and anti- and racism more fully in all that we do.
Civic Engagement and Policy team: will explore the power of collective action and civic engagement on issues that impact the health of the Jefferson Area, its communities, and its nonprofit sector and build upon the great momentum that our Jefferson Counts Leadership Team has created around Census and voting this year.
Contact: Colleen Cadman, Jefferson Regional Foundation
Additional Resources
Our monthly e-newsletters include meeting information and updates, Collaborative Member Spotlights, advocacy resources, and community announcements and news. Check out our past newsletters here. Email Colleen Cadman to be adding to our mailing list.
A resource guide that includes contact information for qualified service providers in the Jefferson Region, organized by service area and designed to assist service providers with referrals and networking.
A yearly gathering of leaders from around the region focusing on networking and capacity building. The 2020 Jefferson Forum was held virtually from April-June and included four virtual sessions focused on The Power of the Nonprofit Sector in Uncertain Times. View recordings from the Virtual Forum Here.
Local data compiled by the University of Pittsburgh's Center for Social and Urban Research, organized by community and available for use by all members of the Collaborative.
For More Information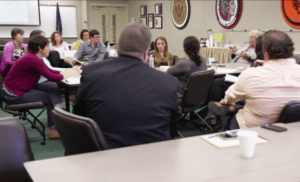 If you are interested in your organization becoming an active Collaborative member, please contact