Share Jefferson Counts Posters & Inserts! Please share these materials on-site at your organization or as an add-in to your daily programming or special events. Spaces are included on posters for you to insert your own logo/event info.
The following items are available:
One Page Poster/Handout

8.5" x 11"
11" x 17"
Small Event Insert (Double Sided!)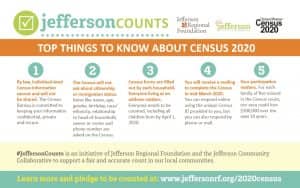 8.5" x 11" half-page
Guidelines for Use of Jefferson Counts Materials
Add your organization's logo or event info to any Jefferson Counts materials or posters.

Please do not alter or remove colors or existing logos.

Feel free to adjust any messaging to fit the needs of your audience.
Interested in connecting with the Jefferson Counts? Need assistance finding Census resources? Have a Census question?